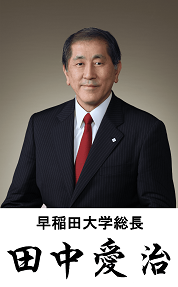 Becoming Waseda, a University that shines on the Global Stage
Waseda University has long been supported by gifts from our many alumni and donors. It is thanks to you that we have been able to send many talented graduates into the world since our founding in 1882, and that we continue to build upon that great history and tradition today. I would like to take this opportunity to express my gratitude.

In 2012, Waseda formulated a medium- to long-term plan called Waseda Vision 150. This plan, which aims to fulfill goals by 2032, the 150th anniversary of our founding, has received acclaim both domestically and internationally. We are now working to further develop Waseda Vision 150 into a new grand design called Next Stage, and intend to clearly identify our priorities, focusing on the following important measures. First, to strengthen the quality of our research and education, we will invite top faculty members from around the world. We will also provide opportunities for students to study abroad while they are enrolled in Waseda, and foster global leaders with intellectual resilience and flexible sensitivities. Second, to transform Waseda into "WASEDA," a university that shines on the global stage, we will strengthen our communications worldwide and share information about our research, education, and history. Third, to further strengthen our financial base, we will boost our fundraising efforts, focusing on the WASEDA Supporters Club. We will also look into sources overseas and consider introducing new fundraising methods based on successful examples from other countries.

In recent years, it has become increasingly challenging to manage private universities, due to factors that include the declining population of 18-year-olds. In such circumstances, it is all the more important for us to revisit the enterprising spirit with which Waseda was founded. Alumni, parents, students, faculty, staff, and others must share this vision and become an "all-Waseda" team that works together toward the same goal.

I would like to ask for your continued support and guidance so that Waseda University may continue to grow.
Aiji Tanaka, President, Waseda University