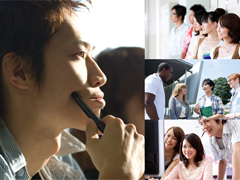 Based on the philosophy of the university, we are actively promoting educational reforms to foster human resources who can solve new problems themselves and demonstrate leadership from a global perspective. In addition, we are setting up an educational environment that can respond to various students' demands. For example, a curriculum system that follows the trend of the times, a study abroad system to acquire international nuance, a small number of language education systems thoroughly, internship system to acquire practical skills in society.
In order to promote this soft side educational reform, we also ask for your support and cooperation to improve the educational environment that is integrated with the hard aspect.
Donate to Education Support Fund
Content contributed by support
Funds provide better education and research facilities for students, and will be used to develop human resources who are active in society in the future.
Recruitment target
Parents of the student, guarantor, those who can agree
Campaign term
From April 1 of each year to March 31 of the following year
Amount offered
One unit : 100,000 yen
We appreciate your cooperation with more than two units as much as possible.
Donation benefits (* For individuals only)
1. We will present "College special postcard set (3 sheets)" to all those who supported us

2. We will present a ticket for Baseball games (Waseda vs Keio in Spring and Autumn), Rugby games (Waseda vs Meiji) and Waseda University Symphony Orchestra concert by lottery to those who donated 200,000 yen or more in the cumulative year.
 Entry is required and the application period will be notified by e-mail. (Please fill in and register e-mail address)