Through the donation to "WASEDA Supporters Club", you can support the following.
· Educational environment improvement
· Global leader development training
· Sports support
· Culture promotion
· Scholarships etc.
We are asking for a certain amount of donation every fiscal year in order to financially support various projects associated with those education and research activities. In addition, we offer various services from our university instead.
Message from the representatives
Ever since our founding in 1882, we have sent many able graduates out into the world and built a brilliant history and tradition extending right up to the present. This would not have been possible at all without the support of these donors, to whom I would once again like to express our gratitude.
In 2012, we at Waseda University formulated Waseda Vision 150, our medium- to-long-term plan looking to our 150th founding anniversary in 2032. Through various reforms in this plan, we aim to become the leading university in Asia, by gethering students who have high wills from all over Japan and from all over the world to Waseda, and continuing to produce graduates who can contribute to the global society.
However, in order to realize various reforms, we are promoting self-help efforts, such as greatly reducing expenses and rationalizing operations, but by reforming on relying only on tuition fees.
Therefore, there is a limit to rank among the top universities in the world, and we are asking for your understanding and support widely.

Hisashi Hieda
Representative of WASEDA Supporters
Fuji Media Holdings, Inc.
Fuji Television Corporation Director and Senior Adviser
Waseda University Councilor President, Barrister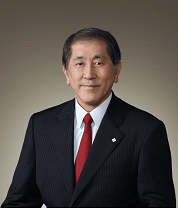 Aiji Tanaka
President, Waseda University
Recruitment summary
Purpose of recruitment
Permanent financial support for various projects that Waseda University conducts. Donations to this Club will be used for student support and educational research activities such as scholarships, global leadership development, sports enhancement, culture promotion etc. Regarding application results, selection of support projects, details of use etc., we will report to the donors by "News Letter" issued once a year etc.
Content contributed by support
Through the WSC Members Foundation, it will be used for specific projects such as educational programs and scholarships to produce talent who can contribute to society, support for research activities innovating the future.
Details of the support project through the WSC Members Fund
Recruitment target
Individuals, organizations, corporations who support the purpose of this system
Membership standard
Yearly members

Everyone who donate the following amount within the fiscal year (April 1 - March 31 of the following year)

Individuals : Over 30,000 yen
organizations or corporations : Over 50,000 yen

Membership service is for individuals only.
Membership qualification date shall be the date on which the cumulative donation received from the financial institution to our university within the fiscal year reaches 30,000 yen.
In the case of credit card transactions, payment to the university from each credit card company may be from one or two month after the application date, so please be forewarned.
Special members

Honorary title giver of Waseda University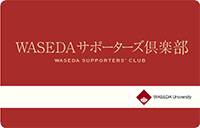 Membership service (* For individuals only)
Send "Waseda lecture Notes" (once a year)

We will reproduce and provide lectures by prominent alumni and teachers and staff of the university on paper.

Guide to "tomonsai" (Waseda University Festival)

We will send you an announcement of the event to be held in late October every year.

Sending original goods (once a year)

We will present "Original Waseda Goods" which only members can have.

Use of Central Library of Waseda University (Presentation of membership card)

You can enter the university's prime central library. (Only viewing and copying will be allowed)

Use of Okuma Memorial Tower 16th floor "Alumni Salon" (membership card presentation)

You can use the space that overlooks the Waseda campus which is operated at an Alumni membership fee paid from an alumni (graduate).

One accompanied person is allowed
General opening hours 12: 00 - 18: 00 (Okuma Memorial Tower opening day)

Exclusive use of "Uni.Shop 125" (presenting membership card)

Discount benefits (5%) will be accepted when purchasing Waseda goods.

Some items may not be eligible for discount.
Eating and drinking at "Uni.Cafe 125" is not available.

Exclusive use of "RIGA Royal Hotel Tokyo" (membership card presentation)

Discount benefits such as accommodation can be received.
* There is a partial exclusion date.

Waseda University Extension Center Open College Admission Fee Discount (membership card presentation)

You can receive the discount (25%) of the admission fee required when you attend an open college.

Exclusive use of "Waseda University History for Tomorrow Museum /Museum Shop"

Discount benefits (5%) will be accepted at the time of purchase.

Invitation to the Waseda Sports and Symphony Orchestra concert (lottery)

Baseball or Rugby (Waseda vs Keio or Waseda vs Meiji) and Waseda University Symphony Orchestra concert tickets will be gifted by lottery.
* Before the target match or concert, we will inform you by website, e-mail magazine etc.

Distribution of e-mail magazine (Applicant only)

You can receive the discount (25%) of the admission fee required when you attend an open college.
Donate to WASEDA Supporters Club
About WSC (WASEDA Supporters Club) Members Fund
WASEDA Supporters Club got approval from many people and created "WSC Members Fund" based on a part of it, and since 2013 we have been using this fund for various student support and educational research activities. (Fund total: 3 billion yen: as of the end of March 2018)
For concrete support projects, we will establish a steering committee consisting of members inside and outside the university and decide it appropriately. Regarding the operation of the Fund, we will report it from time to time as a fund raising publicity magazine etc. from now on.
WSC Members Fund Global Human Resources Development Scholarship

A total of 1 million yen will be paid to a maximum of 10 undergraduate regular students dispatching in this autumn in the dispatch study abroad program established by the International Student Center.

Support for super global university project

We will send you an announcement of the event to be held in late October every year.

Support funds for strategic funds to strengthen sports club

We will use it as a strategic fund for strengthening sports club, especially the most important strengthening part (Baseball, Track & Field, Rugby, and Soccer).

Support for Tohoku Reconstruction Assistance Sports Volunteer Project

We will utilize it as business fund for volunteer activities by sports club aiming for Tohoku reconstruction support which is being implemented continuously from 2011.

WSC members fund donation course

"Learning diversity / gender equality" operation support
Funds will be used as the operating expenses of the course for students to understand modern society from diversity and gender equality perspective.

Support for pre-approved scholarships

The funds will be used to support scholarships for children living(or having lived) in orphanage care institutions, and scholarships for domestic high school graduates outside the Tokyo metropolitan area.

Activity support for the Hirayama Ikuo Memorial Volunteer Center official organization (Awards for organizations that won the top ranking in the contest)

We will use it as activity support money for the top 10 organizations in "Volunteer Presentation Contest" hosted by our volunteer center.

Waseda University Alumni Association Support for top athlete scholarship

Through this fund we will support students' participation in the Tokyo Olympic and Paralympic Games.
Report on donation record
Breakdown of achievement of acceptance of 2018 fiscal year
| Donor category | Donation count | Donation amount (yen) |
| --- | --- | --- |
| Individual | 4,368 | 197,555,963 |
| Corporation | 32 | 366,705,192 |
| Organization | 151 | 19,713,459 |
| Others | 11 | 406,174 |
| Total | 4,562 | 584,380,788 |